Nathalie is originally from France. She is a World Swing Dance Champion and a Master Teacher. She has repeatedly won every major U.S. swing dance title. Known for her gravity-defying aerials, Nathalie has taught and performed in more than 23 countries. Her vibrant performances have earned Nathalie many stage, film, and television appearances. She performed and served as a consultant in the original Broadway production of Swing!, and has appeared at Carnegie Hall and Lincoln Center. She was a featured dancer in the 2003 Julia Roberts film Mona Lisa Smile and was a model for the dancing elves in Robert Zemeckis' 2004 animated feature The Polar Express with Tom Hanks. Her national television appearances include repeat engagements on The Today Show, as well as Entertainment Tonight, The View, Good Morning America, and on MTV. Nathalie founded Dance Quarter, and created and coordinates Mindsteppers where 700 children learn how to dance weekly!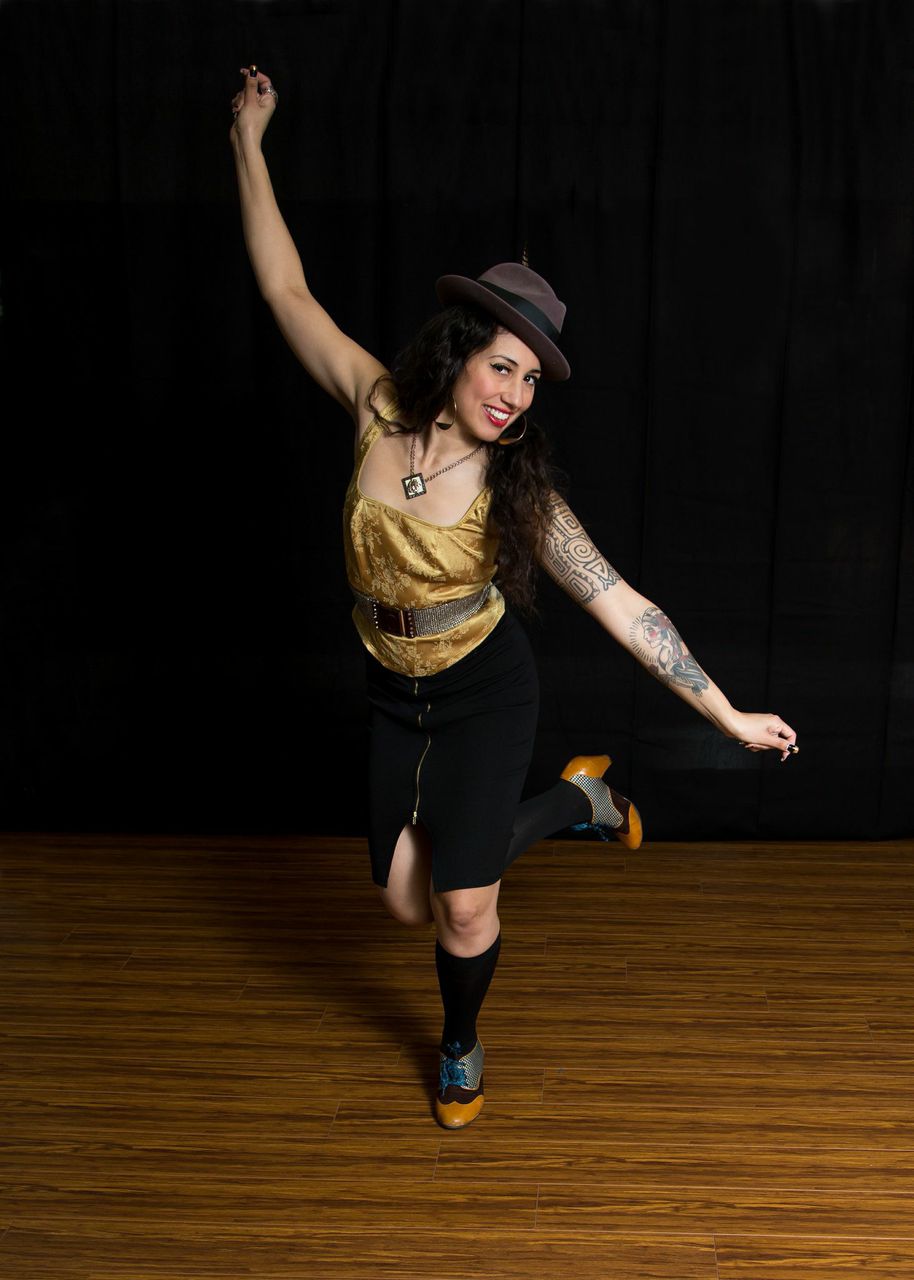 Giselle Anguizola has twenty years experience in the swing dance community teaching, performing and organizing events to help preserve vintage jazz styles. She's passionate about jazz music and performs with a local band, "The New Orleans Swinging Gypsies". G loves working with the community, spreading her passion for live music and dance. As an active yogi, she offers flow vinyasa yoga - open to all.
Raymond Armant is a born and raised New Orleanian and grew up with a great appreciation for many forms of artistic expressions, especially music. His dance life began while on winter break from college in 2004, when asked by his sister to join her for a salsa class. While he had never tried anything like that before he quickly fell in love with this style of dance and also acquiring a special affinity for the Latin Rhythms.
He immersed himself in learning all he could from local instructors around him including, Troy Anthony & Jorjet Alcocer and eventually began traveling to salsa congresses to learn from other national and international instructors.
Upon graduation from college he returned home with a drive and passion for dance more than ever. This passion brought him together with Jana Blakes , Oscar Ramirez, Jonte Thibodeaux, & Tumay Tunur to form Mambo Orleans. They began teaching locally as well as performing at multiple National and International Congresses including, Houston, Dallas, Philadelphia, Cancun, & on the high seas at Aventura Dance Cruise . Through this experience Raymond gained another passion for teaching and sharing his knowledge of dance fundamentals gained over the years with others.
Jana teaches group classes in Salsa on 2 (NY style) and private lessons in salsa and bachata.
Belle Chose is a local burlesque performer who has been a body positive advocate for over a decade and a dance fitness instructor for over 8 years. Her mission in life is to connect people who with as much peace and confidence in their bodies as possible.
Katarina is the current director of Dance Quarter. She is a writer, dancer, teacher, and musician. Credits include Casa Mañana, TC Dance Club, New Orleans School of Ballet, Fort Worth Opera, Tennessee Williams and William Faulkner awards, the New Orleans Fringe Festival, and Best of the Net and Pushcart Prize nominations. Her novel "Platform Dwellers" is forthcoming from Owl Hollow Press. She teaches ballroom, Argentine tango, country, Louisiana heritage classes including zydeco and Cajun jitterbug, and wedding couples.
Kris was rhythmically inclined from a young age, from singing to playing music by ear to finally entering the world of dance when she was 16. She quickly fell in love with the art of dance – learning, growing, teaching, and competing. Her roots are ingrained in all aspects of country western music and dance from cha cha and waltz to two-step and line dancing, and everything in-between.
After giving up dancing for more than 20 years, she returned to her passion, determined to become a versatile and skilled dancer across many genres of dance. With a love of teaching, performing, and competing, she's immersed herself in Latin dance, Argentine Tango, and hip hop.
Kris is currently teaching ballroom and zydeco.
Gabriel started dancing Rock & Roll in 1997 and soon started learning different types of swing dances such as Lindy hop,Charleston,Balboa,Blues and Collegiate shag. In 2008 and 2009 went to Herrang Dance Camp to go further in his learning. In 2010 moved to New Orleans and since then has been sharing his knowledge to the local community. With more than 10 years of experience in teaching, he recently started a performance Troupe called "504 Lindyhoppers" spreading the joy of dancing throughout the city. As a performer, he achieved experience in contests; swing festivals; commercials, music videos and short films; social, private and corporate events and theaters including with some of the most recognized bands in the city.Throughout this time he also learn some other dance styles such as Tap; Argentine Tango and Flamenco. He also is a musician that studied few years at the conservatory and in the present he is playing jazz in the street.
rained in Dance, Fitness, and Nutrition Shanda Domango is known for her passion, motivation, and energy as a dancer, personal trainer, and health coach.
Shanda has established and choreographed the University of Louisiana at Lafayette's (ULL) first Hip Hop dance team – Infinity. While at ULL, Shanda taught Hip Hop at P.J.'s Dance Art School and choreographed and danced for recording artists such as Wentrell Thomas, New Cupid (of the Cupid Shuffle), and Dawn Richard of Danity Kane (formerly Diddy Dirty Money). Shanda traveled as one of the leading performers and choreographers of Sweet Mango and toured her renown Hip Hop Cardio classes around the country.
Shanda currently resides in New Orleans, Louisiana where she runs Domango Training.
Tamalyn Dallal began her career in Middle Eastern dance (bellydance) 43 years ago. Through the non profit arts organization she founded in Miami and ran for 16 years, she has been the primary teacher of several internationally known dancers including Amar Gamal(MA) and Bozenka(Miami/Crete). She has danced and/or taught in 41 countries, and traveled extensively in the Middle East, North Africa and East Africa to spend time with women and learn about the cultures of the diaspora.
Ms. Dallal spent many years dancing for Arabic weddings and other gatherings throughout the US, Latin America and the Caribbean, and has written four books related to dance and culture, as well as filming three documentary films, and produced two music CD's in Zanzibar.
Ms. Dallal lives in New Orleans and teaches overseas part of the year.
Rubia Garcia is a born and bred New Orleans Lady. Trained to play Classical and Jazz music since the age of seven, she quickly fell in love with the rhythm of Latin music in her early teens. In 2001, she began training with Cuban-born Salsero Aurelio Gonzales; performing Casino Style Salsa, or "Rueda" at various venues around Louisiana. In 2004, she broadened her dancing skills by training with world renowned instructors and performers Troy Anthony and Jorjet Alocer. She moved to the Dominican Republic in 2006 to study Spanish and various forms of Latin music and dances including Cha Cha, Merengue, and her personal favorite, Bachata. With almost 15 years of dance experience in Salsa, Merengue, Cha Cha, and Bachata, she is most noted for her unique look, which earned her the name "La Rubia," and her rare ability to both lead and follow with style and precision.
Chanell Gautreaux is a native New Orleans writer and artist whose lifelong passion for dance led her to become certified as a fitness instructor after learning about the Zumba Gold Program. She has worked in a variety of different environments from the enrichment classroom to the entertainment industry, and is delighted to be enjoying a dance renaissance while pursuing a career in fitness. Chanell regularly attends a variety of dance and fitness classes with other instructors to expand and keep up her own practice.
April took her first flamenco steps in Sevilla in her early 20s while spending a year abroad in 2005. Immediately hooked, she returned home to Minneapolis MN and began studying with teachers Colette Illarde of Fuego Flamenco and Susana di Palma of Zorongo Flamenco.In 2010, she packed her bags and relocated to Albuquerque, New Mexico to study at the Conservatory of Flamenco Arts. From 2013-2016, she studied technique with master teacher Eva Encinias-Sandoval at the University of New Mexico. During this time, April was incredibly fortunate to have trained with many visiting master flamenco artists.While serving as Education Programs Manager for the National Institute of Flamenco from 2014-2016, April taught Adult Intro to Flamenco, and children's intermediate flamenco. Currently, April is pursuing graduate studies in ethnomusicology at Tulane University, but has missed flamenco and is excited to teach again! Her pedagogy follows the curricular model developed by her primary mentors, Eva Encinias-Sandoval, Marisol Encinias and Joaquin Encinias, and is a great way to learn the essential basics of flamenco technique, body placement and rhythmic awareness.
Ector Gutierrez, known for his smooth and seductive style, studied Argentine tango in the United States and Buenos Aires under the world's greatest tango masters. His personal style is heavily rooted in the techniques of traditional Salon tango and also utilizes some of the freedom and creativity of Tango Nuevo. Ector is based in the New Orleans area, but his dancing and teaching talents take him around the region and across the globe, including workshops as far away as Beijing and Hong Kong.
Ector's partners for performances include Chris Morris, Katarina Boudreaux, Michelle Erdemsel, Lesia Lebeaue and Sarina Cupo. With Susana Collins in Houston, Ector performed in Crisalis Music Project's Cuatro Estaciones Portenas in 2006 and Maria de Buenos Aires in 2007. Also in 2007, he was a principal dancer in Collins' stage show Luna Argentina and performed with her at Casa Argentina de Houston's Night of Tango.
Jess grew up in Ohio and danced as a little girl. Eventually, she moved to Jacksonville, Fl and started to hear about Dance Trance. She was originally too scared to try it because she was worried that she wouldn't be able to keep up after not dancing for so many years. She was completely hooked and barely missed even one Dance Trance class. After about six months of attending Dance Trance, she was asked by the owners to train to be an instructor. She has loved every second of it! Jess says, " I'm so happy to be dancing every day and I'm so excited to share this program with a city I love!"
Cameron is a poet, dancer, avid meditator, and coffee shop enthusiast. Originally hailing from the great state of South Carolina, he has been dancing for nearly 10 years yet continues to commit himself to learning and exploring new aspects of the dance. His thoughtful teaching style and compassion makes him an excellent addition to the team!
Peter teaches salsa and kizomba!
Ian Monroe is a swing and solo jazz dancer, ambassador of the Frankie Manning Foundation, and jazz enthusiast. Born in New Orleans, he is driven toward making lindy hop and other swing dances more common in a city known for its prominent jazz scene.
De'Jon was Born and raised in New Orleans, Louisiana and his 1st dances were highly influenced by his Dominican background. He has studied and Trained with Aurelio Gonzalez (Cuban Master based in New Orleans), Troy Anthony, Jorjet Alcocer and Raymond Armant of Mambo Orleans. He Currently teaches Bachata (Traditional and Sensual), Salsa on1 LA Style and Salsa on2 New York Style, Cuban Style Salsa, Casino, Rueda, Merengue and Kizomba.
A Bollywood and hip hop fusion dance teacher from Jersey City, Tina decided to become an international group choreographer at Stevens Institute of Technology (winning the international dance competition Unity 3 years in a row as group choreographer) Tina has taught Zumba in New Orleans for a year, then trained with Bayou Movimiento in Salsa, Bachata and Kizomba, and dancing these three genres for the last 1.5 years. Tina has taught or co-taught fusion choreography, Kizomba, beginner Brazilian Zouk (workshops, privates and classes) and more New Orleans LA area.
Sarah hails from the great Florida panhandle and is one of those people we love to hate for finding swing dancing at a young age. She's been in the game since middle school. Trailblazer? Nerd? Potato, Pot-AH-to. She's elegant and natural in her movement and teaches with humor and compassion. She likes kittens, space pants, and tiny instruments.
Sergio Zelaya, Director of Bayou Movimiento, brings 19 years of dance experience and studying into the studio! With a diverse knowledge of dance styles including: salsa, casino, bachata, cha cha, kizomba, semba, son, rumba, cumbia, and many others, he has developed progressive courses that maximize your development as a social dancer!